As the economy limps along, the demand for qualified freelancers continues to grow. Freelance websites — such as oDesk and Elance–report increased jobs posted on their sites.
In spite of the abundant opportunities, making the transition from a steady job to freelance work is not always smooth. As you step into the deep end of the employment pool, keep in mind these seven tips for making freelance websites work for you.
Don't underbid your food budget. Many jobs posted on freelance websites aren't worth your time. You will often find jobs that pay under $5 an hour or $1 for 500 words, barely enough to buy a cup of instant Ramen noodles. Resist the urge to bid low just to gain experience. If you are new to freelancing, you can definitely set your rates lower until you gain experience. Don't set them so low, however, that you can't afford to eat.
Trust no one. Often your only contact with an employer is through the freelance websites' email interface. For all you know, you could be working for an alien living in Area 51. Trust your instincts. If something feels off about the job or employer, back away. Before accepting a job, check out the employer's rating, including the number of jobs paid for, contractor feedback, etc.
Accept flat-rate jobs with a grain of salt. Be especially wary of large flat-rate jobs. You could put in 100 hours of work and never get paid, as the employer slips away into the night. If you do accept a flat-rate job, consider setting up milestones with guaranteed payments for each major deliverable. Not only will you be paid more frequently, but you will also know sooner if you misunderstood your employer's specifications.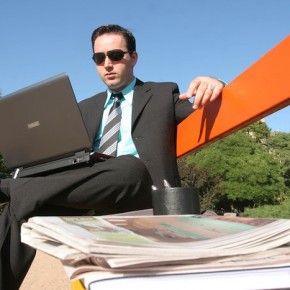 Focus your job searches. Most freelance websites allow you to save your job searches. Use these to quickly find jobs that match your skills. Review the listings frequently. You never know when the perfect job will materialize, only to be snatched away by more persistent contractors.
Show, don't tell. When applying for jobs on freelance websites, be as specific in your cover letter as possible. Don't cut and paste from a previous letter. Address the employer's wish list of qualifications, and back this up with concrete examples from your experience or portfolio. Don't overload the cover letter, though. Narrow it down to the top reasons that you are the best person for the job.
Learn to love rejection (or silence). You have to kiss a lot of frogs before you find your prince, or job. Even though job opportunities have increased on freelance websites, the number of independent contractors has also increased (up 1 million since 2005). Persistence pays off, though. You can often look at the profiles of the contractors awarded the jobs that you applied for. Use this to help you shape your own profile (don't copy!) and application strategies.
Don't keep all of your eggs in one basket. There are many freelance jobs advertised outside of dedicated freelance websites (e.g. Craigslist). Troll those as well. Some of my best jobs have come from non-freelance websites.
__________
Photo by guiguis