In a previous post, we looked at the benefits of having a personal yoga practice. Here are 5 ways to start developing your own practice today.
Find a yoga teacher
The fastest way to a personal yoga practice is with the guidance of a yoga teacher.
He can work with you to develop a sequence of poses, breathing and meditation that fits your needs, goals and restrictions (e.g. injuries). As you work more often with your teacher, he can adjust your practice to keep you progressing.
If you attend a yoga studio, ask if the teachers offer private lessons. You can also find yoga teachers through their websites. It's important to find a teacher that suits your style. Don't be afraid to talk to a few before deciding.
Check out some yoga videos
If you don't have access to (or can't afford) a yoga teacher, check out some videos from the library or video rental store. There are many yoga videos available. As with choosing yoga classes or teachers, find a style that fits your current needs.
Don't get stuck on using the video, though. As you become familiar with the sequence, challenge yourself by doing the poses from memory. This will help your yoga practice take off.
Go to yoga class
Yoga teachers don't invent the wheel every time they teach. Bring a notebook with you and after class write down what you can remember.
Over time, you'll be able to recreate the yoga class from your notes and memory. While this isn't the ideal way to develop a personal practice, for those comfortable with doing yoga, it can work well.
Attend a yoga retreat or immersion
Another great way to develop a personal yoga practice is by immersing yourself in a yoga environment. Doing yoga consistently for a week or more will transform your practice from Simon Says to Simon Does.
Take a yoga teacher training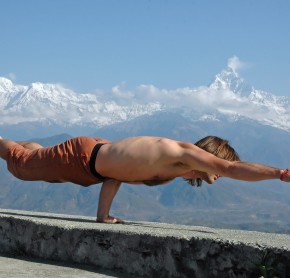 One of the perks of being a yoga teacher is that no matter where you are, you always have a personal yoga teacher hanging around to guide you.
Yoga studios often have 200-hour training programs that will give you more than enough knowledge to do yoga on your own.
If you've been putting off developing a personal yoga practice, stop waiting. Taking charge of your practice will mean that you're more likely to practice regularly.
Start slowly and find a plan that you can stick with. It's better to do 5 minutes a day consistently than 2 hours once a month. Over time, you can grow that 5 minutes into a full yoga practice.