I am a yoga teacher and health and science writer
near Owen Sound, Ontario.
Yoga has been a part of my life since I was in school at the University of Pittsburgh. But my yoga practice has changed a lot since then. Over the years, I have learned to practice yoga on my own and strike a balance between vigorous and more laid-back yoga.
In 2009, I completed my 200-hour yoga teacher training at CorePower Yoga in Portland. After that I studied Ashtanga yoga at Yoga Pearl with Jason Stein. I also took additional teacher training classes at Yoga Shala of Portland, including yoga workshops with Chase Bossart.
My yoga teaching style draws on several types of yoga, including power yoga, Ashtanga, Hatha, and Shadow Yoga. My main teaching style, though, is rooted in a breath-based Hatha practice in the tradition of T. K. V. Desikachar. This style, which I learned at Yoga Shala of Portland, encourages people to develop a personal yoga practice with the help of a qualified yoga teacher.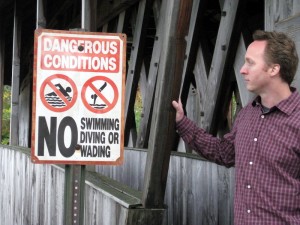 I teach all levels of yoga, from beginner and gentle to more advanced. In my yoga classes, I help my students move at their own pace and work slowly toward more challenging yoga poses. I also have a long-time Buddhist meditation practice, so I regularly include breathing exercises (aka pranayama) and meditation in my classes.
I'm serious about my yoga practice and teaching, but I still find time to laugh about the yoga world. I have written humorous articles about yoga for Recovering Yogi and Elephant Journal. I also write health and science content for online and print publications such as Men's Fitness, Healthline, and The Health Journal.
When I'm not writing or teaching yoga, you can often find me cross-country skiing or hiking in the forest or mountains. The same kinds of peaceful places where I once gathered pine needles as a child for my pine needle collection. Sadly, I don't know what happened to that collection, although I did recently find the margarine collection that I had stashed in a closet in the 1980s.
Learn more about private and group yoga classes

Send an email now or phone (519) 935-9905 (Canada)
Yoga Teaching Experience
I have been teaching yoga since 2009 after completing my 200-hour yoga teacher training at CorePower Yoga in Portland, Oregon.
My first classes were at the Oregon Health & Science University where I worked at the time. I taught yoga classes to my coworkers on the top of a hill overlooking downtown Portland. This lasted until the winter rain arrived in late October. After that, I taught at several studios around Portland, both as a regular yoga teacher and covering other teachers' yoga classes.
I am currently living in a small "village" outside of Owen Sound, Ontario, where I sub for other yoga teachers. I'm eligible to teach yoga classes in both the U.S. and Canada.
Here is a partial list of places I have taught yoga:
Tone Yoga Studio, Owen Sound, Ontario, 2012 to present
Gateway Haven Long Term Care Home, Wiarton, Ontario, 2017 to present
Multiple Sclerosis Society of Canada, Bruce-Grey Chapter, Owen Sound, Ontario, 2015
Complete Wellness, Wiarton, Ontario, 2012*
Yoga Shala of Saugeen, Saugeen Shores, Ontario, 2011*
CorePower Yoga, Portland, Oregon, 2011
Yoga Shala of Portland, Portland, Oregon, 2010 to 2011
Sprout Health, Portland, Oregon, 2010 to 2011*
PureHeart Yoga, Portland, Oregon, 2010*
Loprinzi's Gym, Portland, Oregon, 2010*
Woodstock Wellness Center, Portland, Oregon, 2010 to 2011
Oregon Health & Science University, Portland, Oregon, 2009 to 2010
* Substitute yoga teacher
Yoga Teacher Training
Yoga takes a few minutes to learn and a lifetime to master. I continue to take workshops and trainings in yoga philosophy and teaching methods. Here is a partial list of my training:
Chase Bossart, Yoga Well Institute, Yoga Philosophy and Teaching Methods, Portland, Oregon and online, 2009 to present
Deepha Romuwalt, Proactive Physiotherapy, Yoga and Pelvic Floor Health, Owen Sound, Ontario, 2016
Kalpana Panditrao, Om Yoga, Prāṇāyāma Workshop, Owen Sound, Ontario, 2012
Aleksei Gomez Torres and Monica Urania Lopez Manzano, Inspirales, Thai Yoga Massage Training (The Sunshine Network, Category A, CMTO), Sauble Beach, Ontario, 2011
Leslie Kaminoff, The Breathing Project, Yoga Anatomy: The Diaphragms and Respiratory Anatomy & Individualized Asana/Breath and Yoga Therapy Seminar, Portland, Oregon, 2010
Peter Sterios, Gravity and Grace: The Power of Surrender and Intuitive Response, Portland, Oregon, 2010
Darren Main, Meditation, Hatha Yoga and Pranic Breathing, Portland, Oregon, 2010
Shambhala Buddhist Meditation Center of Portland, The Art of Contentment, Portland, Oregon, 2010
Jody Kurilla and other yoga teachers, Yoga Shala of Portland, Teacher Training and Advanced Studies 500-Hour Program (partial), Portland, Oregon, 2009 to 2011
Tiffany Cruikshank, Yoga Medicine, Ashtanga Yoga & Vinyasa Yoga, Portland, Oregon, 2009 to 2011
Jason Stein, Yoga Pearl, Ashtanga Yoga, Portland, Oregon, 2009 to 2011
CorePower Yoga, Yogi Training, 200-Hour Power Vinyasa Yoga Teacher Training, & Yoga Teacher Internship, Portland, Oregon, 2009 to 2011
Simon Park, Liquid Flow Yoga, Inversions and Arm-Balances & Prana Vinyasa Flow, Portland, Oregon, 2009
Shambhala Buddhist Meditation Center of Philadelphia, The Way of the Warrior Levels 1 & 2, Philadelphia, Pennsylvania, 2003 to 2007
Thomas Jefferson University, Graduate-level Gross Anatomy and Physiology, Philadelphia, Pennsylvania, 1999 to 2000