My yoga practice is all about finding a little stillness.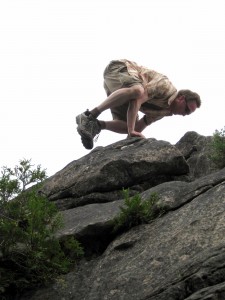 I started practicing yoga while I was at the University of Pittsburgh, hoping to balance out my active lifestyle – bicycling, backpacking, snowshoeing – with a little flexibility. My first lessons in yoga, though, were not during a yoga class, but from a book – Beryl Bender Birch's Power Yoga.
I tried on-and-off to follow the yoga sequence outlined in the book, but my toes never seemed to get any closer. Eventually, I took the plunge and signed up for a six-week Yoga for Beginners class at a yoga studio in Philadelphia. This jump-started my yoga practice – by the end of the session, I could finally make it through the Sun Salutations with only a minimal amount of panting (although it would be several more years before I could touch my toes).
Since those early days, my yoga practice has changed quite a bit: from hard-core yoga – faster, hotter, crazier – to a more breath-based practice that is designed to fit my body and mind. The biggest difference for me, though, was learning how to practice yoga on my own – which is exactly how I began doing yoga in the first place.
One thing that helped me move beyond just following a teacher's directions was taking my 200-hour yoga teacher training at CorePower Yoga in Portland, Oregon. But I made even more progress when I attended morning (6 am every day!) yoga classes at Yoga Pearl with Jason Stein. During these Ashtanga yoga classes, I worked at my own pace to learn one yoga sequence, which enabled me to really work on the poses – and moving between them – without worrying about what was coming next.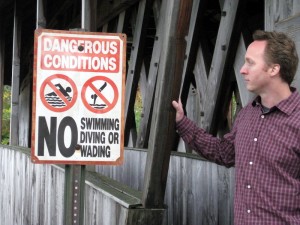 After that, I took additional yoga teacher training in the tradition of T. K. V. Desikachar at Yoga Shala of Portland, including yoga classes and workshops with Chase Bossart. This style of yoga emphasizes developing a personal yoga practice, something that remains a strong part of my yoga classes and teaching.
I continue to practice yoga regularly in my home yoga studio, even amid the commotion of cats and kids. I also try to meditate each day. Sometimes it is a yoga-style meditation, with a mix of movement, breathing, and focus. Or a Buddhist meditation, something that I learned through the Shambhala Meditation Center in Philadelphia and Portland.
I also try to focus on quality over quantity in my personal yoga practice. When life becomes too busy for an hour or more of yoga, I set aside five to ten minutes and focus on movement and breathing. This is often the best yoga of my week.
Learn more about private and group yoga classes

Send an email now or phone (519) 935-9905 (Canada)