Product Information
Healthy Habits Health App
Developer: 2Morrow Mobile LLC
Price: Free, or $4.99 premium version
Available for: iPhone and iPod Touch
Basics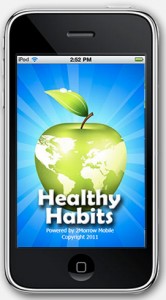 Staying healthy is impossible without good habits.
It can take weeks to form new habits, or break old ones.
The Healthy Habits gives you the support needed to make positive changes in your life, such as getting off the couch and running, or eating more vegetables.
This health app lets you create healthy habits and track your progress, and even reminds you of missed goals.
How This Health App Works
Choose a habit to "make" or "break" from the Healthy Habits library. These include many options in four categories—eating, fitness and health, mind, and social. Or you create your own custom habit.
For each habit, set a goal, such as running three times a week. You can also set steps to meet that goal, reminders, and motivational messages. To record that you've completed an activity, simply tap on the main screen next to the habit.
The Upsides
Healthy Habits is well designed to help you keep track of your progress toward changing your habits.
There's a large amount of customization available, even in the free version of this health app.
If you forget to record your early morning run from the day before, Healthy Habits lets you go back and enter it.
Keep track of your progress in the health app with built-in charts and graphs.
This health app even lets you share your progress with your friends by email.
The Downsides
With so many options for customization, it can be time-consuming and challenging to set up and start using Healthy Habits.
Some of the graphs and charts are a little confusing, and may not be that useful in helping you achieve your goals.
In addition, you can choose to do an activity two times a week, but can't select which days.
Along with this limitation, you can only set daily reminders rather than for specific days.
The Verdict
If you are determined to change your habits, this health app can be a useful tool to help you achieve your goals.
You will need to spend some time in the beginning learning how to use the health app, so try the free app before buying.
Major features found only in the premium version include the ability to monitor more than three habits, set customized reminders, and export your data.
If you like structure and being able to monitor your progress visually, the Healthy Habits health app can be an excellent motivator.
If you hate the thought of being chained to your phone (and the health app), though, you'd be better off with a white board to monitor your goals.
__________
Photo: Healthy Habits health app screenshot, 2Morrow Mobile LLC